#Economics_mags and #Business_mags
Open Innovation in Embedded Systems By Carsten-Constantin Soeldner
Samuel Meng, Mahinda Siriwardana, "Assessing the Economic Impact of Tourism: A Computable General Equilibrium Modelling Approach"
The Dynamics of Corporate Social Responsibility: A Critical Approach to Theory and Practice (CSR, Sustainability, Ethics & Governance) by Maria Aluchna
Defining and Measuring Economic Resilience from a Societal, Environmental and Security Perspective By Adam Rose
Mathematical Methods in Economics and Social Choice (Springer Texts in Business and Economics) by Norman Schofield
?Open Innovation in Embedded Systems By Carsten-Constantin Soeldner
English | PDF | 2017 | 193 Pages | ISBN : 3658163887 | 1.78 MB
Carsten-Constantin Soeldner's investigation enables embedded systems firms to understand how they can open their systems to gain access to the ideas and solutions of external users and developers. Similar to smartphones with their large number of apps, firms are now beginning to open their embedded systems towards open innovation.
Despite the large potential to increase innovativeness, firms face a variety of obstacles, such as the presence of safety and real-time constraints or the need to protect intellectual property. Carsten-Constantin Soeldner identified a variety of approaches how firms can still open their systems while not violating these constraints. The book is built on four different studies which comprehensively illuminate open innovation strategies for embedded systems.
?Samuel Meng, Mahinda Siriwardana, "Assessing the Economic Impact of Tourism: A Computable General Equilibrium Modelling Approach"
2017 | ISBN-10: 3319403273 | 354 pages | PDF | 4 MB
This book employs a computable general equilibrium (CGE) model – a widely used economic model which uses actual data to provide economic analysis and policy assessment – and applies it to economic data on Singapore's tourism industry. The authors set out to demonstrate how a novice modeller can acquire the necessary skills and knowledge to successfully apply general equilibrium models to tourism studies. The chapters explain how to build a computable general equilibrium model for tourism, how to conduct simulation and, most importantly, how to analyse modelling results. This applied study acts as a modelling book at both introductory and intermediate levels, specifically targeting students and researchers who are interested in and wish to learn computable general equilibrium modelling. The authors offer insightful analysis of Singapore's tourism industry and provide both students and researchers with a guide on how to apply general equilibrium models to actual economic data and draw accurate conclusions.
?The Dynamics of Corporate Social Responsibility: A Critical Approach to Theory and Practice (CSR, Sustainability, Ethics & Governance) by Maria Aluchna
English | 7 Feb. 2017 | ISBN: 3319390880 | 348 Pages | PDF | 5.01 MB
This book explores recent developments in the theory, strategic perspective and international practice of corporate social responsibility. In particular it discusses the consequences of the economic slowdown apparent in many economies and the impact of changes in the regulatory environment.
It consists of three parts: Part one addresses a variety of theoretical approaches as well as the dynamics and criticism of corporate social responsibility. It takes into account social and governmental expectations for the new and extended role of companies in the economy and in society, and provides a new context and theoretical assumptions regarding the functions and tasks of corporate social responsibility. Part two discusses the practical aspects relating to strategic management and corporate governance, corporate disclosure and reporting, as well as the empowerment of stakeholders. Lastly, part three focuses on the international practice of corporate social responsibility in various organizational and institutional settings. Using numerous case studies, the book explores the challenges and tasks of CSR in emerging markets, in the fashion industry and in global and family companies. It identifies the changes that can be detected following the financial crisis, closing the loop and linking the empirical findings with the revised theoretical framework.
?Defining and Measuring Economic Resilience from a Societal, Environmental and Security Perspective By Adam Rose
English | PDF | 2017 | 125 Pages | ISBN : 9811015325 | 1.5 MB
This volume presents an economic framework for the analysis of resilience in relation to societal, environmental, and personal security perspectives.
It offers a rigorous definition of economic resilience and an operational metric, and it shows how they can be applied to measuring and applying the concept to private and public decision making. Major dimensions of resilience and their implications for human development are explored. Resilience is emphasized as a coping mechanism for dealing with short-term crises, such as natural disasters and acts of terrorism. As well, the author shows how lessons learned in the short-run out of necessity and through the application of human ingenuity can be incorporated into long-run sustainability practices. In part, this opportunity stems from viewing resilience as a process, one that enhances individual and societal competencies. The book links economic resilience to several other disciplines and examines the relationship between resilience and various other key concepts such as vulnerability, adaptation, and sustainability. It scrutinizes the measurement of economic resilience in terms of temporal, spatial, and scale dimensions. It examines the time-path of resilience and relates it to the recovery process.This work also looks closely at progress on the formulation of resilience indices and stresses the importance of actionable variables. It presents a risk-management framework, including aspects of cost-effectiveness and cost-benefit analysis. Additionally, it explores the role of resilience in relation to the co-benefits of disaster risk management.
?Mathematical Methods in Economics and Social Choice (Springer Texts in Business and Economics) by Norman Schofield
English | 23 Oct. 2013 | ISBN: 3642398170 | 280 Pages | EPUB | 3.46 MB
In recent years, the usual optimization techniques, which have proved so useful in microeconomic theory, have been extended to incorporate more powerful topological and differential methods, and these methods have led to new results on the qualitative behavior of general economic and political systems. These developments have necessarily resulted in an increase in the degree of formalism in the publications in the academic journals. This formalism can often deter graduate students. The progression of ideas presented in this book will familiarize the student with the geometric concepts underlying these topological methods, and, as a result, make mathematical economics, general equilibrium theory, and social choice theory more accessible.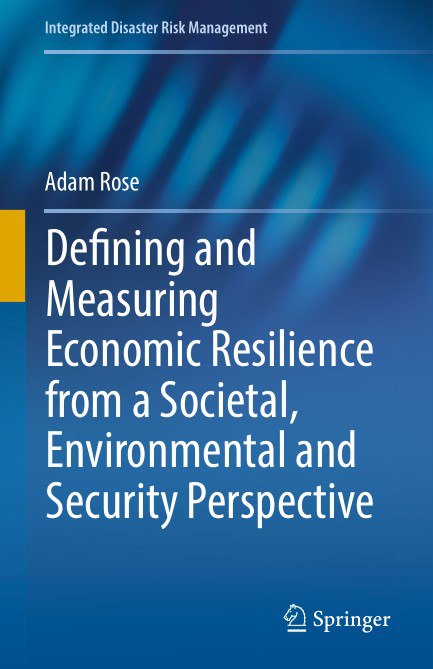 Open Innovation in Embedded Systems.pdf
Defining and Measuring Economic Resilience from a Societal, Environmental and Security Perspective.pdf
Assessing the Economic Impact of Tourism A Computable General Equilibrium Modelling Approach.epub
The Dynamics of Corporate Social Responsibility A Critical Approach to Theory and Practice.epub
Mathematical Methods in Economics and Social Choice (Springer Texts in Business and Economics).epub